@HerrDrLecter
Name:
Hannibal Lecter
Age:
n/a

Gender:

Male

Occupation:

Psychiatrist

Relations:

Mischa Lecter (Sister)

Lady Murasaki (Aunt) Robertus Lecter (Uncle)

Status:

Married

Faceclaim:

Mads Mikkelsen
Began Tweeting 15th May 2013 and was moderately active until August 2013. HerrDrLecter is a cannon/simi-cannon RP whose primary interests are creating murder tableaus for others to analyze and his relationship with Mischa Lecter.
ChildhoodEdit
---
Born to Count Lecter VII and Simonetta Visconti
---
As a young man, Hannibal was brought to Pairs by his uncle, Robertus. He stayed with them in their Chateau outside of the city, learning a great deal about sword fighting, ancestor worship, and Japanese culture from his aunt, the Lady Shiba Murasaki. After the death of his uncle and a rather unfortunate incident with his aunt he moved to a boarding school in Paris, working diligently and achieving high marks as a medical student.
Medical SchoolEdit
---
His articulate anatomical renderings helped him to win a scholarship to John's Hopkins, where he performed his residency.
Practicing MedicineEdit
---
Coming Soon
Change to PsychiatryEdit
---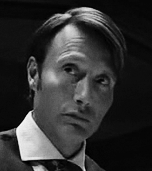 After switching specaltiess and becoming a Psychiatrist, Hannibal began seeing patients in his office in downtown Baltimore. Early in his practice he treated Mason Verger.
Work with the FBIEdit
---

Coming Soon
Hannibal lost most of his family
Hannibal is in a relationship with Mischa . They are expecting their first child in early 2014.
Personality
Edit
This is primarily a cannon Hannibal, who occasionally becomes simi-cannon in certain storyliness.
Coming Soon

Ad blocker interference detected!
Wikia is a free-to-use site that makes money from advertising. We have a modified experience for viewers using ad blockers

Wikia is not accessible if you've made further modifications. Remove the custom ad blocker rule(s) and the page will load as expected.