First held in 2013, this event takes place on Fourth of July at Muskrat Farm, a normally vastly empty mansion where Mason and Mark Verger live. On this one day a year they throw a party that rivals even Hannibal Lecter's dinner parties, inviting one and all to celebrate Halloween in July, don a mask, and enjoy the food.
Yearly Events
Edit
Costume Contest
Elaborate Food
Fireworks
Notable Happenings
Edit
2013 was the very first year in what promises to be many years of celebrating this event. The Verger twins had a rap battle, and Mason walked for the first time since his accident. Plenty of couples, including Bederick, danced for the first time that night.
2014 [#VergerBash]
Edit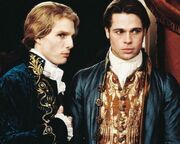 In the second annual run, the costume contest was made official, with actual polls. Mason and Mark won the couples costume contest as Louis and Lestat from The Vampire Chronicles. The runners-up were James and Jacob as Thor and Loki.
Selina won the individual costume contest as a baby snail.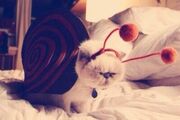 Despite many preformers, songs, and conversations, undoubtedly the most important event that came to pass late in the evening, when Mason brought Mark onto the porch to take a breather, under the guise of acting whether or not he had seen Ethan's brief appearance at the window, but not the party. Only observed by a few partygoers, Mason gave Mark a golden pendant made by plating one of Ziggy's baby teeth in 24 karat gold. Along with it came the request to make things more official. Rather than boyfriend, Mason wanted a partner. T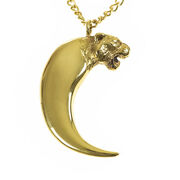 hrough careful and somewhat awkward conversation, it became clear that both men were willing to take a more official step. They were married four months laters.
2014